The Lack Of Impact WAR Under Neal Huntington
The following is an article from the newly-released PiratesGuide 2019. It features articles from many young analytical writers, plus this old warhorse. To get even better essays than this one, purchase your copy through Amazon.
You win with stars.
The Washington Nationals were terrible from the time they moved from Montreal in 2005 up until 2012. That ?s the year that Bryce Harper debuted and Stephen Strasburg returned from his Tommy John surgery after getting his feet wet and arm hurt in 2010. That same year of 2012 is when Ian Desmond also elevated his game to become a top shortstop and set the stage for getting an albatross contract from the Rockies five years later. On the pitching side, Gio Gonzalez delivered an ace-level year after being acquired in a trade from the A ?s and homegrown Jordan Zimmermann slotted in as a high-end #3.
Aside from Gonzalez, the Nationals drafted all the players mentioned above. If you ?re a small market/small revenue team like the Pittsburgh Pirates, the most economical way to find stars is to draft and develop them internally.
So why have they been so bad at drafting and developing their own impact talent?
If you ascribe to the notion that an average major league position player is worth 2.0 WAR and an All-Star is 4.0 WAR, then an impact talent on the field is 3+ WAR. For starters, the rule-of-thumb of Rule Of Six can determine a starting pitcher ?s level ? i.e., take their season WAR and subtract it from 6. So if a pitcher has a 4 WAR season, he ?s a #2-level pitcher. This would make a #3 pitcher and above to be ?impact ? talent, so 3+ WAR, as well. For relievers, due to pitching 1/3 of the innings as a starter, if a reliever has 1 WAR or greater, that reliever can be considered to be an ?impact ? asset.
These type of players move the needle. They aren ?t just call-ups to pad the roster out. They aren ?t even average types in the 2 WAR threshold. These are guys that start to propel teams from losing records to winning records to playoff berths, if you accrue enough of them in a critical mass.
For the purposes of this essay, I went through each MLB teams ? draft history from 2008-17 and determined how many players that the team drafted, signed, and developed through their system until he debuted with that same team. Each draft class was evaluated to see how many individual impact seasons (3+ WAR starters/position players, 1+ WAR relievers) there were and how much total impact WAR has been accumulated through the end of the 2018 season.
I could have cut this off at the 2016 draft, as only one player from the 2017 draft has made the Majors and he didn ?t accumulate a 3+ WAR season yet, so if you don ?t tell Kyle Wright and the Braves about this, let ?s just assume this is for 2008 to 2016 drafts.
This is what it looks like in graphical format: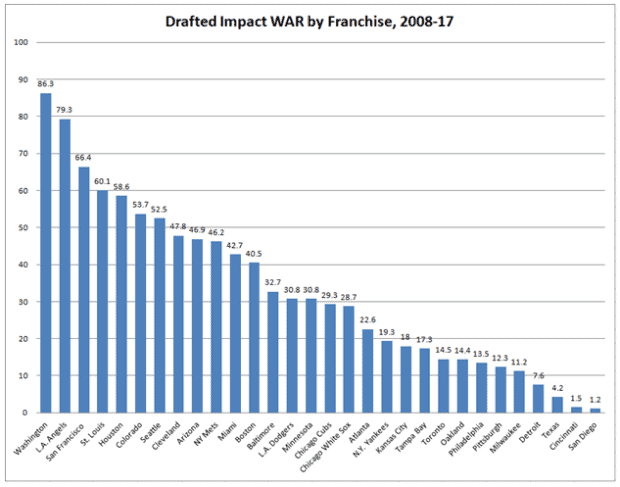 There ?s a lot to tease out from this graph. First, let ?s all take a minute to quietly stifle our laughter at Cincinnati and San Diego and their lone 1.5 WAR season from Tony Cingrani and 1.2 WAR season from Nick Vincent, respectively. The Washington Nationals are comfortably in the lead, but that ?s what happens when you draft Stephen Strasburg-Bryce Harper-Anthony Rendon back-to-back-to-back. The L.A. Trouts are in 2nd place thanks to drafting a future inner circle Hall of Famer 25th overall in 2009 and reaping the benefits of his 64 WAR to date in his career. The San Francisco Giants had the best non-Mike Trout draft class with the 2008 pairing of Buster Posey and Brandon Crawford supplying them with 45.1 WAR of their total. And of course, the St. Louis Cardinals are in the upper echelon. For degree of difficulty, though, they like to find their impact talent at unusual spots like Matt Carpenter (27.4 WAR, 13th round), Paul deJong (6.3 WAR, 4th round), down to Kevin Siegrist contributing a 1.4 WAR reliever season after being drafted in the 41st round.
But lest we start whistling past the graveyard, observe that the Pirates are in a woeful 25th position with an even more woeful 12.3 WAR. That 12.3 impact WAR is derived from just three impact-level seasons: Gerrit Cole with 5.5 WAR in 2015 and 3.1 in 2017, Jameson Taillon with 3.7 in 2018. That ?s it.
I did find it odd that three perennially low-budget teams (Rays, A ?s, Pirates) were all in the bottom 10 for drafted/developed impact WAR. This just puts added pressure on each front office to import talent via trade or low-cost free agent signings to supplement the failure by the farm systems to generate their own impact talent. Milwaukee and Cincinnati also occupy two more spots in the bottom 10 and it ?s not like they ?re splashing cash around each offseason on payroll, either.
Considering that the average for this exercise among the 30 MLB teams was 33 impact WAR, the 12.3 WAR by the Pirates is both astounding and unacceptable. But where does the fault lie within the organization?
Naturally, it ?s not just to be assigned to one facet. Portions of the drafting blame should be spread around to the scouts recommending the selection of players, the crosscheckers for gathering those scouts ? opinions and distilling them down, and the scouting director for ultimately overseeing the drafts.
On the development side, the minor league coaches can only work with what they are given, plus they have to instruct under the general umbrella of what the farm director prescribes the Pirate Way to be. The rigid adherence to fastball command, at the detriment to developing secondary pitches for pitchers, has created an army of low-ceiling robot pitchers from the minors.
The Pirates have had very few homegrown starting pitchers of note ? from draft day all the way to the Majors ? over this 10 year study period. Homegrown pitchers who have made at least 25 starts in a single season are comprised of:
Jameson Taillon (2 seasons)
Gerrit Cole (3 seasons)
Chad Kuhl (1 season)
The Pirates had a very encouraging rotation in 2018, but it was made up of parts assembled from different avenues. Taillon was homegrown, as was Chad Kuhl when healthy, Ivan Nova was a free agent (technically), but Trevor Williams/Joe Musgrove/Chris Archer were obtained in trades. In Musgrove and Archer ?s cases, significant assets were surrendered to get them.
By being rigid in their drafting and developmental beliefs, the Pirates under Neal Huntington were hoping to game the system by creating a wave of talent players in a certain mold. But in fact, they confined themselves to limiting the players to a certain low upside. For the Pirates to truly be successful, they should break out of the self-imposed mold and the let the players ? inherent talents dictate how to develop them for success.
On the hitting side, the results are not more encouraging. Between 2010 (the year Pedro Alvarez became the first drafted hitter to reach the Majors) and 2018, the Pirates had 49 players accrue at least 450 plate appearances in a season, which is roughly 75% worth of a typical player ?s plate appearances.
Of those 49 individual player-seasons, only 9 such seasons were from Huntington-drafted players:
Pedro Alvarez (3 seasons)
Jordy Mercer (3 seasons)
Josh Bell (2 seasons)
Adam Frazier (1 season)
As shown earlier, none of these seasons crested the 3 WAR level to be considered an impact season by that player. In fact, the total accrued WAR for these 9 player-seasons is only 13.3 WAR, or slightly under 1.5 WAR/season.
By not providing his team with a steady input of impact-level talent from the farm system, Huntington has had to seek such performances on the trade market (Francisco Cervelli, Josh Harrison) or through free agency (Russell Martin, Jung-ho Kang). And of course, he utilized the on-hand assets of Andrew McCutchen, Starling Marte, and Neil Walker for impact WAR seasons.
Neal Huntington is now the 4th-longest tenured General Manager in baseball. He ?s had to work with one hand tied behind his back due to budget constraints for the entirety of his time here in Pittsburgh. But he ?s also not making his job any easier by the clear failures to develop a continuous flow of talent from the draft through the farm system.
If you liked this and want to see more analytical articles on the Pirates, consider purchasing the Pirates Guide 2019 that has a host of other great Pirate writers.