2017 Trade Value Rankings- Black for Gold Trades
In yesterday's article we listed the Trade Value rankings.  Today's article we'll take the values and formulate trades using Pirates' assets for both ends of the trades.
In the message forums I always try to buffer the yinzer trade proposals by putting it in terms of our own players or prospects.   For example if the fans were proposing a trade for Christian Yelich of the Miami Marlins and offered Chad Kuhl, Adam Frazier and Gage Hinsz, I would turn around and propose whether or not they'd make a similar trade with our Christian Yelich — Gregory Polanco.  Sometimes we wouldn't have a player or prospect that was similar to the others teams assets, but normally you could find an approximate.
Today's seven "trades" will send players from hypothetical Pirates Team Black to the hypothetical Pirates Team Gold to show how I view their values.
Trade 1
| | |
| --- | --- |
| Pirates Black receives | Pirates Gold receives |
| Starling Marte | Gregory Polanco |
Let's start out with a bang.   Which return do you want?
Marte is more established and still has a high ceiling.  He's never fully put it together and could tap into some more power.   He also has the safer skill set with a 'spray the ball to all fields' approach.   Marte's negatives are his high BABIPs and his injuries.   He's destined to break bones with his defense and baserunning approach and his plate hogging HBP ways.  He's also older and has less years of control.
I'd assume most TPOP readers would take Polanco.   He's younger, has more power, more years of control and his sweet LH swing is tailor-made for PNC park.   He also has good patience at the plate, can steal a lot of bases and has a laser for an arm.  The problem is that many scouts don't like his swing because it's too long.   Speaking of long, it's easy to see his incredibly long frame lead to injuries the more active he plays.  He also hasn't had the success that Marte has had and it might not ever come.
Too hard to choose…..
Trade 2
| | |
| --- | --- |
| Pirates Black receives | Pirates Gold receives |
| Gerrit Cole | Will Craig |
| | Clay Holmes |
| | Max Moroff |
| | Travis MacGregor |
| | Max Kranick |
| | Braeden Ogle |
| | Michael De La Cruz |
If the Pirates currently didn't have so many pitching prospects  in AAA I'd love to receive what the Pirates Black received.. and if I knew Glasnow/Kingham/Brault/etc were all going to hit I'd suggest trying to receive what Pirates Gold will receive.
There aren't many Pirates whose value could swing so much in 2017 as Gerrit Cole.   If he goes out and has a 5 WAR season you could add more and better names to the column on the right.   If he has another injury riddled season OR worse, than you'd be lucky to get what is in the right column. Cole has three seasons left before he's a free agent and shouldn't require too high of salaries the next couple years.
The prospects on the right are all lottery tickets.   My favorite new Craig comp is a slower Jason Bay with a better arm.  Holmes is a horse and could be a 200 inning starter.  Moroff could be a ML starter at 2B.  MacGregor, Kranick and Ogle all could be starters and De La Cruz could be Juan Pierre 2.0.  That being said there's a zero percent chance that all of those happen and a greater than zero chance that none of them do.
Trade 3
| | |
| --- | --- |
| Pirates Black receives | Pirates Gold receives |
| Jameson Taillon | Austin Meadows |
I really love this trade because I seriously don't know what side I'd choose.    Good starting pitching is so hard to find and Taillon could be a good one for a long time.    He has 6 years of control which extend through his year 30 year old season, so an extension for a couple extra might even be feasible.
Meadows is a tough pill to swallow though.   He's a legit CF with an adequate arm and good speed on the base paths.   The bat is what makes him special though.   His ceiling is legitimately a Hall of Famer, which you can't say about every prospect.  Now injuries have been a problem and he hasn't seen good LHPs and LOOGY's so he might not be great right away but the potential is there.
Trade 4
| | |
| --- | --- |
| Pirates Black receives | Pirates Gold receives |
| Francisco Cervelli | Josh Bell |
| | Ke'Bryan Hayes |
If injuries never happened this trade wouldn't even be considered as Cervelli is that good.   He's probably a top 5 catcher once you consider offense/defense, baserunning and framing.   The problem is that injuries happen and Cervelli has been plagued by them.   Also, his contract is such that doesn't give a lot of team flexibility as he gets paid well and there are no options.
Bell and Hayes were the pieces I chose but you could have made other premium offers.   The point is that Cervelli has tremendous value.
Trade 5
| | |
| --- | --- |
| Pirates Black receives | Pirates Gold receives |
| Jung-ho Kang | John Jaso |
| | Adam Frazier |
| | Chad Kuhl |
So do you take what is behind Box number 1… a potential 5+ WAR shortstop  in Kang who could actually win the MVP OR could end up never playing a game in the majors again?
Or do you take what is behind Box number 2… a very solid bench piece, corner player and DH in Jaso who every team would love to have for 400 ABs, an up the middle defender who is a singles machine in Frazier and a potential 5th starter or dominant reliever in Kuhl?
Trade 6
| | |
| --- | --- |
| Pirates Black receives | Pirates Gold receives |
| Josh Harrison | Tyler Glasnow |
"You're crazy!"  Am I?   The Dodgers basically just made this trade sending Jose DeLeon Jr. to the Rays for Logan Forsythe.   Yes, Harrison and Forsythe are different players but Harrison is the better defensive 2B and runs better.   Harrison battled injuries in 2015 and 2016 and wouldn't surprise me if he'd have a 3+ WAR season in 2017.
Glansow might garner 3+ WAR this year or not break 3 WAR for his career.   He's probably the biggest boom-or-bust prospect the Pirates ever had.
(For those not familiar with Jose DeLeon, he's about as polarizing yet well regarded as Glasnow, but all off speed stuff and changeups.)
Trade 7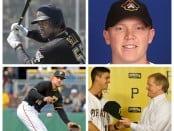 | | |
| --- | --- |
| Pirates Black receives | Pirates Gold receives |
| Josh Bell | Mitch Keller |
| Jordy Mercer | Kevin Newman |
Alright maybe this trade is the most egregious.   "How could you give up the future ace and shortstop for Mercer and Bell?"  First, Mercer is a first division starting shortstop because he's been a first division starting shortstop for three years and might have another good three years or in him or better.   He's been really healthy and could hit 15+ HRs if he'd see more LHPs.   Bell might hit .300/.400/.500 for 10 years, even if his defense is suspect.
Now Keller might be an ace and seems to have better indicators of future stardom than even Cole had.  Newman also has been praised for everything from his bat to his demeanor to how he wears his hat, but neither are even officially past AA (I bet Newman starts in AA for a couple months until Tucker is ready to bump up).
I could see a team like the Red Sox  making a trade like this and receiving what the Pirates Black got and the radio call in shows would be complaining like crazy.
Let us at TPOP know what you think.   Our rankings again are here: