Pirates 2020 Payroll: Backfiring Correctly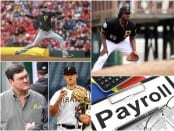 If Jung Ho Kang would have hit 40 HRs this year while playing plus defense and/or if Francisco Cervelli would have repeated his 2018 on the offensive side, and maintained his good defense of 2019, then the Pirates would have had to consider offering one or both a Qualifying Offer. I believe that it was the possible QO ?s that motivated some of the offseason of 2019 ?s spending habits as much as our 2020 arbitration class. With neither playing well to warrant a QO, it has set us up well for 2020 and beyond. Let's delve into the numbers.
How 2020 is setting up
In Major League baseball you may have a player making $575K that leads the league in WAR or Innings Pitched. You might have another player making $25M that is barely playable or who is injured the whole season. When you take this variability between individual players and multiply it over the entire 25 man roster you ?ll have a hard time predicting how good a team is based on the payroll.
As I planned to write this article I was prepared to be mad at the Pirates. Much has been made of how the Pirates didn ?t spend much this offseason and the ?excuse ? was that the Pirates had a big arbitration class coming in 2020 and they had to save money for future raises. But I knew that Cervelli's contract was coming off the books, as well as knowing that 1st year Arb players don't get paid that much. In this article I wanted to dig into the payroll for 2020 season and see if what they were saying is true or if it was my guess of the possible Qualifying Offer buffer.
In 2020 it is accurate that the following players will go to arbitration the first time:
Josh Bell
Jameson Taillon
Joe Musgrove
Trevor Williams
Adam Frazier
Chad Kuhl
Elias Diaz
Erik Gonzalez
Also, Michael Feliz will hit arbitration for the second time and Keone Kela for the third and final time. Obviously, seven of the eight first timers are most notable since they are the core of our team. Sorry Erik Gonzalez.
Using the info from Cots Contracts I get next year's payroll estimated using a small bump in league min salary, the known contracts like Vasquez, Marte, etc. and Arbitration comps from this year:
| | | |
| --- | --- | --- |
| Player | 2020 salary/estimate | 2018 Arbitration comps |
| Cervelli, Francisco | 0 | |
| Marte, Starling | 11,500,000 | |
| Dickerson, Corey | 0 | |
| Archer, Chris | 9,000,000 | |
| Polanco, Gregory | 8,500,000 | |
| Vazquez, Felipe | 5,750,000 | |
| Kang, Jung-Ho | 0 | |
| Chisenhall, Lonnie | 0 | |
| Lyles, Jordan | 0 | |
| Liriano, Francisco | 0 | |
| Cabrera, Melky | 0 | |
| Shuck, J.B. | 0 | |
| Rodriguez, Richard | 650,000 | |
| Taillon, Jameson | 4,500,000 | Lance McCullers ? $4.6MM, Steven Matz ? $3.0MM |
| Bell, Josh | 4,000,000 | Tommy Pham ? $4.0MM, Miguel Sano ? $3.1MM |
| Frazier, Adam | 2,050,000 | Delino DeShields Jr. ? $1.9MM |
| Williams, Trevor | 4,500,000 | Lance McCullers ? $4.6MM, Steven Matz ? $3.0MM |
| Musgrove, Joe | 4,500,000 | Lance McCullers ? $4.6MM, Steven Matz ? $3.0MM |
| Diaz, Elias | 1,500,000 | Greg Bird ? $1.5MM |
| Kuhl, Chad | 2,000,000 | Cam Bedrosian ? $1.7MM |
| Gonzalez, Erik | 2,000,000 | Delino DeShields Jr. ? $1.9MM |
| Feliz, Michael | 2,500,000 | Chad Bettis ? $3.2MM |
| Kela, Keone | 5,750,000 | Dellin Betances ? $6.4MM |
| Crick, Kyle | 591,500 | |
| Santana, Edgar | 591,500 | |
| Moran, Colin | 591,500 | |
| Brault, Steven | 591,500 | |
| Osuna, Jose | 591,500 | |
| Kingham, Nick | 591,500 | |
| Neverauskas, Dovydas | 591,500 | |
| Reyes, Pablo | 591,500 | |
| Stallings, Jacob | 591,500 | |
| Burdi, Nick | 591,500 | |
| Newman, Kevin | 591,500 | |
| Brubaker, J.T. | 591,500 | |
| Escobar, Luis | 591,500 | |
| Holmes, Clay | 591,500 | |
| Keller, Mitch | 591,500 | |
| Kramer, Kevin | 591,500 | |
| Liranzo, Jesus | 591,500 | |
| Martin, Jason | 591,500 | |
| Tucker, Cole | 591,500 | |
| | $79,938,500 | |
The 80M total estimate is a little high for a couple reasons. The 40-man players don't actually count for full ML league min salaries unless they're on the 25-man roster so that gives an extra $3-4M of buffer.
I also picked some players for Arb comps that play for teams that don't really battle in Arbitration so the estimates might be a half million higher here and there.
Regardless, we have a payroll commitment of $75-80M in 2020.
The Qualifying Offer Problem That Won't Be
No way do the Pirates want to sign Jung Ho Kang to a multi-year contract after this season. It will be surprising if he even lasts the whole season in Pittsburgh. Going into the offseason, they knew he was in great shape, presumably good enough shape to play some shortstop. They also know his history of annihilating fastballs. Prior to this season, Kang was in rare company as far as OPS against fastballs:
Best OPS vs 4seam fastballs, min 1k fastballs, PFx era:

1) J-H Kang
2) R Healy
3) T Mancini
4) J Votto
5) J Soler
6) M Trout
7) G Springer

? Eno Sarris (@enosarris) September 11, 2017
Plus defense at 3B/SS and 40 HRs is a 5 WAR player and worthy of Free Agent bidding. Fortunately the Pirates have a built in excuse not to bring him back with Ke'Bryan Hayes waiting in the wings. Best case scenario is that the Pirates would have offered him a Qualifying Offer, Kang turns it down and the Pirates get an extra pick in the supplemental round. But they had to have the payroll flexibility to be ready for him to accept. Keith Law always says "there is no bad one year contract"– Kang at 1 year, $18M would be really pricey for the Pirates but if he was hitting 30 HRs a year and playing good defense, while easing Hayes' transition, it wouldn't be bad. Josh Harrison got paid $11M last year for a terrible season.
Francisco Cervelli is the same story, but I believed he had a much more likely chance of receiving a Qualifying Offer and therefore turning it down. Catching is so scarce in MLB. Cervelli provides great handling of pitchers, average framing and normally high OBP. That type of commodity is worth a 3/$45M contract and possibly more. A denied QO was a very likely scenario when the season started, but you had to be ready for him to accept, take the high one year salary and gamble on repeating the same level of performance.
While I still think Cervelli might be brought back next year, it'll be on a Pirates' type contract (2/$16M with 10M option?). Regardless, I don't think the chance of either getting a QO is going to happen. This means we have some payroll money to spend/extend players.
How to Spend the $18M+ On Payroll
Extend Bell – Possibly the face of the franchise for next 6 years. He doesn't have a ton of leverage as he turns 27 in August, the Pirates control him for 3 years and he's a 1B. Hard to guess what kind of contract would do it. I'd go longer with less per year. Maybe 7/$80M. DH decision determines a lot about the likelihood.
Extend Taillon – He might have waffled in his no-extension stance. His value is looking similar to his two rotation mates rather than a tier above them currently. Luis Severino got 4/$40M and Blake Snell got 5/$50M. Maybe Taillon gets 5/$45M.
Extend Musgrove and Williams – Williams and Musgrove seem like the most likely of the group to be Pirates in 4 years. Maybe a deal similar to Taillon 5/$45M.
Bring back Cervelli – as discussed above
Bring back Lyles – if Lyles keeps this up he's an easy 3 year contract for $15M/year, probably too expensive for Pirates at this place, but if he'd take a Nova type deal to stay, maybe Pirates do it.
Bring back the Melk-man – a really good hitter is a thing of beauty. Reynolds and Martin might make him superfluous but he's sure be fun to have around.
Next version of Lyles, Melk-Man – in this day and age of veterans not getting paid, offering a decent player a shot at a 25 man roster spot/rotation spot is a really good way to get some value, as we are seeing this year with Lyles and Melky. Wouldn't be a bad annual plan.
If the 2019 team continues to play well and the minors keep producing, that extra money we have in 2020's payroll could be a nice feather in our cap for years forward.