The Pirates May Have Stabilized Their Bullpen
Even though it is the blessed day of May 22nd and small sample sizes can start to be disregarded, for two new additions to the Pirates' bullpen the terminology very much still applies. Montana DuRupau and Geoff Hartlieb have arrived within the past week and instantly provided some fire suppression to the raging blaze that was the bullpen.
The Pirates love to make life difficult on themselves, whether it's having a payroll $25-35M lower than it should be, or now trying to complete a baseball season while putting a different player on the IL every other day. In recent weeks, the Pirates have angered the baseball gods, so they're only able to have 3 healthy, competent starting pitchers at any one time. Trevor Williams exited with an oblique injury, just as Chris Archer returned from his thumb inflammation. With Steven Brault and Nick Kingham not providing either quality or depth of innings, the bullpen has needed the likes of Michael Feliz, Dovydas Neverauskas, and Clay Holmes to pitch bulk innings. This quintet has largely been terrible.
But a slight glimmer of hope peaked through the oppressive gray cloud hanging over the 2019 Pirates last Saturday in San Diego. The bookend pitchers of the game, Montana DuRupau as the opener and Geoff Hartlieb as the 'closer' of the 7-2 win, were fantastic. They weren't just effective, they displayed why they appear to have more staying power than the duo of Feliz and Holmes (Neverauskas is already back in AAA).
It's amazing that DuRupau and Hartlieb are even in the majors to begin with. DuRupau was drafted in the 32nd round in 2014 and Hartlieb in the 29th round in 2016. Picks from those rounds are expected to fill out minor league rosters for a few years and maybe make it to AA, not contribute in the majors. But now they join the very small and non-illustrious list of post-10th rounders to make it the majors under Neal Huntington — they are just the 5th and 6th to do so.
DuRupau has now appeared in five games and has a grand total of 6.2 IP, so yeah, small sample size, but so far his groundball rate is an astonishing 73.3%. If he were a qualified reliever, he'd be 2nd in the Majors behind only Zack Britton's 76.8%. DuRupau currently is sporting a launch angle on his batted balls of -1.5 degrees. That's right. His average ball is smashed into the ground, not in the air at all. So far he's been a slider-first pitcher (45.3% of all pitches) and it's been working — batters are currently 0 for 9, with 5 strikeouts and a launch angle of -11 degrees, against it. The curve has also been good, as he's been burying it (and the slider) down and away to righties and down and deeply inside to lefties.

Geoff Hartlieb has an even more microscopic body of work, but the results from his Saturday appearance were extremely encouraging. Check out this 98 mph bowling ball coming at Ian Kinsler, also known to mortals as a 'sinker':
Going 1-2-3 to close out the game in your first #MLB appearance? Cold as ice.

Geoff Hartlieb picked up career strikeout No. 1 in his @MLB debut en route to a perfect inning of relief for the @Pirates.#Pirates Top 30 prospects: https://t.co/yHNrNtCaLi pic.twitter.com/ts8J9CF4aX

? MLB Pipeline (@MLBPipeline) May 19, 2019
Hartlieb has also been working effectively down in the zone in his much shorter time in the majors. Hey, it's better than sitting dead red like Neverauskas has done this year. Here's Hartlieb's chart: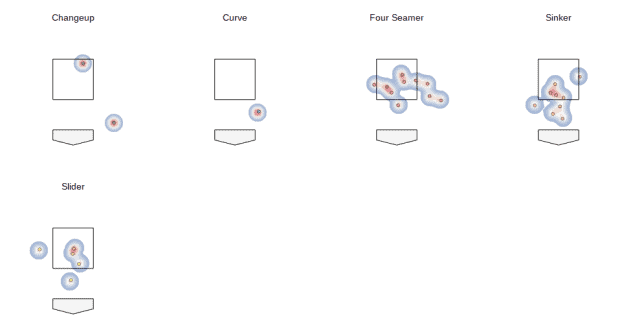 Let's presume that the development of Mitch Keller magically is complete in time for him to fill one of the two open slots in the rotation some time this week. That would still leave one possibility for either an Opener or a bullpen game every fifth day. Here's what I would propose:
Start DuRupau as the Opener and have him go 2 innings
If the Pirates are either winning or tied, go to Hartlieb for 2 innings
If the Pirates are down after DuRupau's 2 innings by one run, go to Chris Stratton for 2-3 innings
If the Pirates are down by 2 or more runs, go to either Brault or Kingham and hope to minimize the damage with them providing 3-4 innings
If after DuRupau and Hartlieb's 4 innings the Pirates are still winning or tied, I'd go to Stratton for 2 innings, then hope the Liriano/Crick/Vazquez train takes the win home. If the Pirates are well out of it after 5 or 6 innings in this scenario, that's when Feliz and/or Holmes can come in and pitch.
I'm not saying it's a great strategy, but it is a strategy. For a bullpen game every fifth day, you're basically saying that as a team you're OK rolling the dice.