Troubleshooting Jordan Lyles
On May 14, I ran an article on this very website declaring Jordan Lyles one of Neal Huntington and Ray Searage ?s best reclamation projects. He was the secret weapon in what looked like a stacked rotation. Eight weeks later, I ?m hoping I didn ?t jump the gun there.
After accruing 1.2 fWAR in his first eight starts, Lyles has been replacement level his last six. Going by bWAR, he had 1.5 wins above replacement in his first seven outings, but has been worth -0.3 since then. Looking at his overall body of work in the first half, Lyles has been a good pickup, but his current free fall is a cause for concern for the rest of the year.
Lyles did benefit from outperforming his expected metrics through those first eight starts, but he ?s been hit harder lately, too.
Well, going by xFIP, he ?s pitched just about as well these last half dozen starts. By every other way to evaluate him, including the eyes, he's been far worse. This is why xFIP is trash. Thanks for coming to my TED talk.
Lyles is already at 74.1 innings pitched- more than he threw in 2016 and 2017 and only a handful of frames fewer than in 2018. That is also over the course of a whole season, mostly as a reliever. He may not be stretched out to go a full season as a starter, or perhaps that hamstring injury is still lingering. I don ?t want to discount those theories, but he ?s also made a noticeable mechanics change that could be a problem.
Like a lot of right-handed pitchers, Lyles has had a harder time retiring lefties throughout his career, eventually leading him to the bullpen. Those platoon splits were under control through the first month and a half, but they have been apparent lately.
First 8 starts against LHH: .332 wOBA, .291 xwOBA, 89.8 MPH Average Exit Velocity
Last 6 starts against LHH: .462 wOBA, .395 xwOBA, 90.9 MPH Average Exit Velocity
Lyles ? right-handed splits are a little more complicated. Righty batters are posting significantly better results against him lately, but his average exit velocity allowed an expected wOBA are virtually identical.
First 8 starts against RHH: .206 wOBA, .299 xwOBA, 88.5 MPH Average Exit Velocity
Last 6 starts against RHH: .371 wOBA, .304 xwOBA, 88.8 MPH Average Exit Velocity
Here's where the mechanics change comes into play. Let ?s compare and contrast Lyles first start against the Cubs on Apr. 10 to his most recent one on July 4. Here are his release points in the April start.
It ?s a consistent delivery. In a perfect world, the circle would be a little tighter, but he ?s working out of the same zone.
Now let ?s look at his last start.
There are two distinct pockets of release points: one for right-handers and one for lefties.
This is a fairly new development. After scouring Lyles' game by game release points, the divide seemed to happen on June 8. In his final game before hitting the IL for the second time, it's clear he had an inconsistent attack against lefties.
When he came back on June 28, he was setting up shop on different sides of the rubber depending on the hitter. Against lefties, he stood on the first base side.
Against righties, he was one the third base side.
And a side by side look for good measure.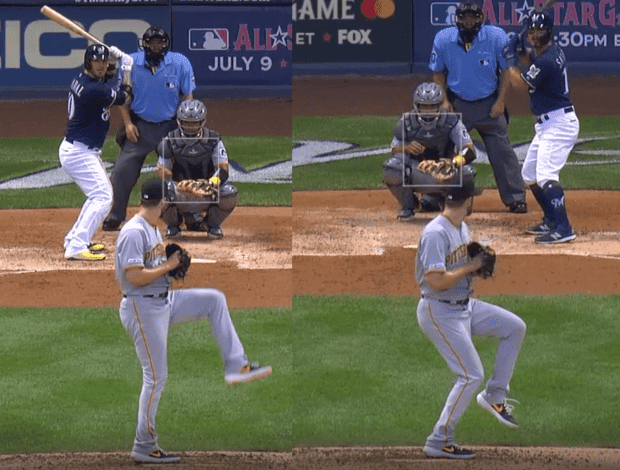 But wait! There's more. It turns out Lyles has already pitched from the first and third base side of the rubber. In his first start against the Cubs on Apr. 10, he was attacking from the first base side.
One month and one day later against the Cardinals, he's closer to third.
I can't say for certain which side of the rubber Lyles pitches better from. I can say with some certainty that he pitches better when he's throwing from a consistent point throughout the game. In this regard, he's a bizzaro Steven Brault. While Brault has found success from a consistent delivery, Lyles is doing worse because he's tinkering. His struggles do predate this change a bit, but he was also battling a bum hamstring at that time. Just since this change over his last three starts, he's running with these splits:
LHH: .511 wOBA, .428 xwOBA
RHH: .466 wOBA, .362 xwOBA
Foot placement could snowball Lyles' lefty problem into a righty problem. Perhaps I'm jumping the gun on Lyles again, but if there's one thing that can fix a struggling pitcher, it's repeating their mechanics. This strategy makes that nearly impossible.