Ross Park Mall & The Case For Transit-Oriented Development
This past Monday, an urban issue presented itself in a suburban environment. The Ross Township Board of Commissioners tabled a proposed redevelopment plan of the erstwhile Sears store at the thriving Ross Park Mall. One of the primary reasons was so the developers would consider installing a sidewalk from McKnight Road to Ross Park Mall for pedestrian access.
If you are unfamiliar with the layout of Ross Park Mall in relation to McKnight Road, it is 2,800 feet away from it to the nearest potential entrance and the hike up the hill is substantial (130 feet elevation change). McKnight Road itself is a bouillabaisse of commercial developments and other strip malls. There's virtually no residential development that readily accesses McKnight Road. The re-development area is on the northern end of the mall, to the right of the labeled Nordstorm and Cheesecake Factory.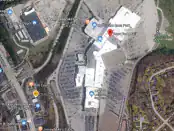 Installing a concrete sidewalk from McKnight Road, presumably at the entrance near Bob Evans/Chili's, up to the mall would cost approximately $70,000. This is based on the price of about $45/square yard for materials/labor of the sidewalk and $15/square yard for the excavation of the slot of the sidewalk. The topography itself, with steep adjacent hillsides in the proposed area, is not exactly conducive to a sidewalk in the first place.
When I asked Ross Township's President of the Board of Commissioners, Steve Korbel, about how many pedestrians actually would use it, he replied:
Dozens of people every day. The typically get off the PAT bus and walk up the hill from there.

? Commissioner Steve Korbel (@SteveKorbel) February 13, 2019
The easier solution in lieu of creating of a white elephant piece of infrastructure, is for Simon Property Group (the mall owner and re-developer of the Sears) to approach Port Authority's new'ish CEO, Katharine Kelleman, to increase bus service up to the mall itself. Port Authority is finally talking about transit-oriented development (TOD) in a way to create more efficiency in their routes. The premise of TOD is for people to use public transportation, it has to be convenient and to serve their needs. Taking multiple buses and then having to walk substantial distances is not convenient and will steer people who afford to drive to so. For people who rely on public transportation, it is burdensome. TOD tries to re-align public transportation to key centers of residential and commercial areas.
With 160+ stores, thousands of employees, and many high-end stores, Ross Park Mall is a destination. In essence, this is a TOD in reverse — the place of business is already created and PAT is retrofitting — but it's a chance to be responsive in a big way. There are a handful of PAT routes serving it now, but by making a commitment to ensuring that all McKnight Road routes include Ross Park Mall, PAT can put its new TOD principles into action.
While the sidewalk would help protect the safety of the users, asking people to hike over a half-mile (in inclement weather for large portions of the year) is not a better sustainable solution than approaching Port Authority and working together.